Informative Talks Highlight Spirited IHR Meeting
News from the Institute for Historical Review
Stimulating and informative talks, along with food, drinks and lively conversation, helped make the most recent IHR "open house" get-together another memorable event. Among the two dozen local friends and supporters who met on Saturday evening, Jan. 16, 2010, at the Institute's offices in southern California were students, businessmen, a physician, two attorneys, a community organizer, a family counselor, and several recent IHR volunteers. (Limited seating restricted the number of invitations for the gathering.)
Richard Herman, a retired engineer who lived for years in the Middle East, gave the first of several talks. He reviewed the often-repeated claim that Jews have a divine right to land based on promises laid out in the Bible. He began by recalling that he once accepted the familiar, pro-Israel view of the Middle East conflict, but changed his outlook after discussions with informed people and extensive reading while living in the region. In recent years he has devoted much time and effort to educating the public about the Israel-Palestine issue.
Jewish claims to Palestinian territory based on the Bible, said Herman, are so conflicting and confused that they can have no reasonable validity. "Imagine you are buying a piece of property, and the deed listed three of four different descriptions of it, with conflicting locations, boundaries and areas. The deed would be null and void." So it is with Jewish Biblical claims in the region, he said. The truth is that Zionist Jews stole the land they now hold, he concluded.
Bruce Leichty, a California lawyer who has served as the US attorney for Ernst Zundel, provided an "insider" update on Zundel's ordeal. He reported on the drawn-out legal battle to secure the German-born publicist's right to live in the United States, including efforts to overturn a 20-year-ban against his living in the US.
Zundel has been held behind bars for nearly seven years -- since Feb. 5, 2003, when he was arrested at his home in eastern Tennessee, where he had been living quietly with his wife. He was seized on the pretext that he had violated immigration regulations, or had missed an interview date with immigration authorities, even though he had entered the US legally, was married to an American citizen, had no criminal record, and was acting diligently, and in accord with the law, to secure status as a permanent legal resident. He was soon deported to Canada, where he was held for two years in solitary confinement on the pretext that he is a threat to national security.
On March 1, 2005, Zundel was deported to Germany, where he has been held ever since for criminal "popular incitement" through publication of writings that "deny the Holocaust." He is now Europe's most prominent "prisoner of conscience." Zundel is scheduled for release in early March. It is not clear just where or how he will live after he leaves prison.
A local businessman who has been an especially active local supporter also addressed the gathering. He spoke about the ever more obvious disorder and breakdown in America, which are signs of a society in decay. The Institute's work is accordingly all the more important, and he urged generous support for the IHR. He and other attendees donated more than $300 during the evening.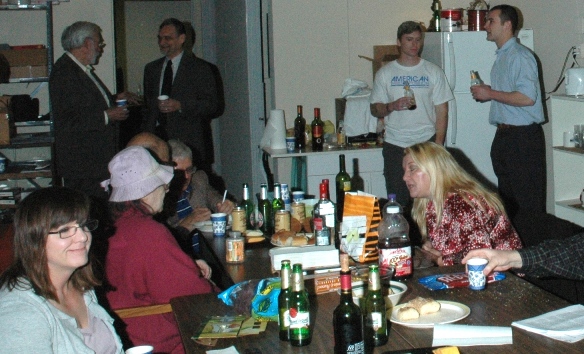 At the Jan. 16 IHR Meeting
Mark Weber's talk was a spirited, informed address titled "Where America's Heading, and What It Means for Us." As recent public opinion polls confirm, Americans today are more dispirited, anxious and pessimistic than ever about the nation and its future. This is understandable, he went on, given the drastic cultural-ethnic changes in recent decades. In accord with utopian principles and unrealistic policies proclaimed by our leaders, the US is rapidly becoming an ever more confused and disorderly "Third World" country. During the past 40 years, he added, the US has changed more profoundly than did Eastern Europe during the four decades of Soviet rule.
Weber gave numerous examples to support his view that the country's most prominent leaders -- whether they call themselves liberal, conservative or moderate -- lack candor, an informed view of history and the world, or a reality-based vision of the future. Disgust with America's political leadership is widespread and growing, and encompasses people across the traditional political spectrum. But Americans are terribly confused about just how and why things have gotten so bad.
That's why the work of the IHR and similar educational groups in providing solid information, sound insight, and realistic perspective on history and our world is so badly needed. It is especially important, Weber said, to reach younger people of idealism, courage and understanding who can and must serve as leaders in the difficult years to come if America is to have a future that is prosperous, healthy, and worthy of our people.